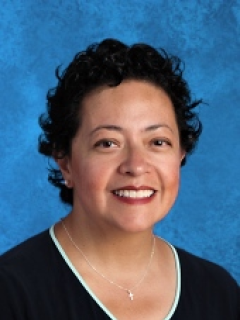 Mrs. Freyssinier
Mrs. Freyssinier graduated as an Interpreter Translator in two languages, English and French. A year after that, she went to college and graduated cum laude as a Clinical Psychologist. In 1999 when she moved to the US from Mexico, she audited French classes for two and a half years at RPI. She also volunteered at the Troy Visitor Center and became a Literacy mentor. In 2004 she and her husband welcomed a daughter and in the next five years, their family was complete with two more children (two boys).
After her third child started kindergarten she volunteered some time at St. Jude's working in the lunchroom. And in 2015 she started a job as a Pre K aide in St. Jude.
While working as an aide, she took some early childhood courses at the HVCC and also attended a seminar to learn the Handwriting Without Tears method which she applies nowadays in her classroom. After one year and a half as an aide, she was offered a position as the leading teacher for the three-year-old class.  At the end of her first teaching year, she became an American Citizen.
She started as the teacher of the 3 year-olds for one year, then was the Half Days teacher for another year, and since 2018 she is the teacher of one of the four-year-olds rooms.
She is currently in her third semester as a part-time student at The College of St. Rose pursuing a master's in Educational Psychology. When Mrs. Freyssinier has some free time you can find her in her backyard enjoying a book or around her neighborhood taking a walk. She loves going to the beach and her favorite food is tacos. She is happy and thankful for everything she has and her job is very important to her.