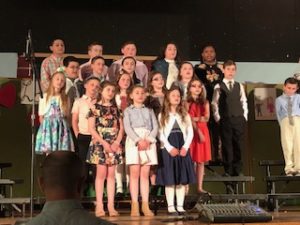 On Thursday, April 11th all of our Kindergarten through 6th grade students participated in our spring concert themed  "Dare to Love, Dream, Shine". All of the songs performed during the concert supported this theme. As an avid music lover, I know how important music can be in our every day routine. Music has a plethora of purposes. It can be used to entertain, communicate, educate, enhance, and distract. It can also be used to help us feel, deal with our emotions, as well as give us that sometimes needed escape from reality.
Each song performed at the spring concert had a specific message that I thought was important to share. Some of the songs talked about how it is important to love and support others, to love yourself no matter what others may say, and to know that no matter what, God will always love you. Other songs talked about how we should let our inner light shine. God created us all created with unique personalities. We all have a place and purpose in this world, and we shouldn't be afraid to be ourselves. As long as we are confident, love who we are, and use our talents for good, then it shouldn't matter what someone else may think or say. The remaining songs in the concert talked about having dreams and making goals for ourselves. I think it is important for students to be reminded that it is more than ok to have dreams and aspirations. We all have the capability of being great, as well as the potential to do amazing things. It is important that we believe in ourselves and work hard in life so that we can achieve our dreams.
As we enter our well-deserved spring break, I dare you to love, dream, and shine.  Whether you choose to share your love with others, learn to love yourself, or just accept the fact that you are already loved by God, I dare you to love. Next, I dare you to not be afraid to dream. Maybe you want to go to college, join a sports team, join the peace corps, learn an instrument, travel, get that promotion, or become the next president. We are capable of doing great things, so work hard, believe in your potential, don't let rejection stand in your way, and find a way to make your dreams a reality. Lastly, whether you choose to show off your inner light, be confident, make your mark on this world, inspire others, or maybe just help someone else find their own inner light, I dare you to shine.
Miss Hill